{Still needing to copy over some stuff. Hang in there*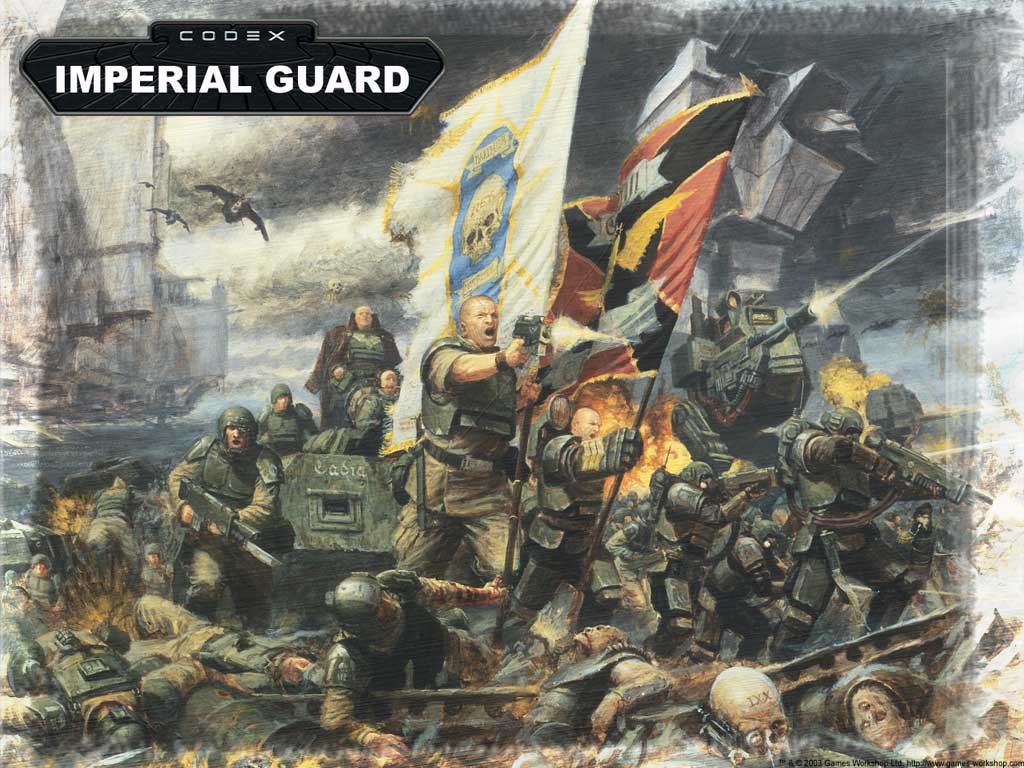 Listen to this while reading: http://www.youtube.com/watch?v=h7Ewd8OeYEA, or possibly this http://www.youtube.com/watch?v=E26V2Pel5Y4
It is the 41st Millennium. For more than a hundred centuries the Emperor has sat immobile on the Golden Throne of Earth. He is the Master of mankind by the will of the gods, and master of a million worlds by the might of his inexhaustible armies. He is a rotting carcass writhing invisibly with power from the Dark Age of Technology. He is the Carrion Lord of the Imperium for whom a thousand souls are sacrificed every day, so that he may never truly die.
Yet even in his deathless state, the Emperor continues his eternal vigilance. Mighty battlefleets cross the daemon-infested miasma of the Warp, the only route between distant stars, their way lit by the Astronomican, the psychic manifestation of the Emperor's will. Vast armies give battle in his name on uncounted worlds. Greatest amongst his soldiers are the Adeptus Astartes, the Space Marines, bio-engineered super-warriors. Their comrades in arms are legion: the Imperial Guard and countless planetary defence forces, the ever vigilant Inquisition and the tech-priests of the Adeptus Mechanicus to name only a few. But for all their multitudes, they are barely enough to hold off the ever-present threat from aliens, heretics, mutants - and worse.
To be a man in such times is to be one amongst untold billions. It is to live in the cruelest and most bloody regime imaginable. These are the tales of those times. Forget the power of technology and science, for so much has been forgotten, never to be re-learned. Forget the promise of progress and understanding, for in the grim dark future there is only war. There is no peace amongst the stars, only an eternity of carnage and slaughter, and the laughter of thirsting gods.
You are an Imperial Guardsman of Cadia, one of the most vital worlds in the entirety of the Imperium. You are a Cadian Shock Trooper, one of the best fighting forces of the Imperium. You are in the 421st Cadian Regiment. Should your world fall, the forces of Chaos would break the back of the mighty Imperium, destroying all of humanity. Your world will not fall.
-W-
Now that the epic and overwhelming intro is over, I'd like to lay some things out here. First, I'm going to be using an experimental character stats system. Your stats for each category will affect situations in the game. Here's an example:
A character's strength is 6. Their task is the lift a piece of concrete that has trapped a comrade. Their first roll, to preform the action, is 7. That, according to me (the GM) is not enough. However, the player can also roll the die again to determine if their stat will help them move the concrete. If the number is less than 6, the stat is added to the first roll, which means that the player successfully lifted the concrete chunk. If the roll is slightly higher than 6 (7-14, for example) it will do nothing. In certain situations, such as stealth movements, an extremely high roll (such as 15-20) will result in a negative effect. This basically helps players make better use of their character's status, and gives the stats that a player assigns their character be of actual use! To sum things up, players will roll twice per move, the first to preform the move, the second to see how the stats affect the character.
Now about characters:
To be more true to the universe, here is the equipment list for your characters. Additionally, please read the material in the links, as advantages and disadvantages for each weapon are usually described there.
Primary Weapons (Choose one)
M36 Kantrael Lasrifle- Good mid-range weapon; a bayonet can be attached to the front, although knives can be more effective detached.

Meltagun- This is a short-ranged weapon, sort of list a plasma shotgun (read the article on the link); the user must carry a power-pack on their backs to keep it charged. This will lower agility, and could result in the player's death, should the pack be shot.

Flamer- This is also a short-ranged weapon. Those it doesn't kill things as quickly and effectively as a meltagun, it does set fire to the ground it touches, potentially stalling enemies from advancing. Requires a fuel tank on the user's back, which makes this user as cumbersome as a melagun user.

Grenade Launcher- Fires grenades in an arc to land in masses of enemies; can knock enemies to the ground or fling them up into the air.

Plasma Gun- Good mid-range weapon; fires super-heated plasma at targets, which explode. If heavy support weapons aren't available, it is the best choice at taking out armored targets.

Available Secondary Weapons (Choose one)
Combat Knife- Steel blade to stab enemies.
Eyup. That's it.

Grenades/Charges (Choose a type)
Frag Grenade- Anti-personnel device; user receives four of these.

Krak Grenade- Anti-armor device; user receives two of these.

Demolition Charge- Excels as an anti-personnel device, as well as anti-armor, but is dangerous, for reasons explained in the link; user receives one of these.
All players are automatically equipped with the standard armor of the Imperial Guard: Flak Armor.
-A-
Here's some info regard stats. The follow is the list of skills that the player can start out with. As the game progresses, the GM (me) award players experience (which translates to skill points) to be added to the character's stats.
List of Character Skills
Strength- Governs the player's raw strength, and if upgraded enough, can allow for players to use heavy weapons.

Perception- Governs a player's awareness of his/her surroundings. This affects from how far away a player can spot an enemy, recognize a trap, etc. It also increases a player's accuracy.

Endurance- Governs a player's ability to take pain and give a player increase stamina.

Charisma- Governs how well other people interact with the player

Intelligence- Governs a player's competence with technology, vehicles, mechanics, and medicine.

Agility- Governs a player's ability to move quickly, such as ducking and rolling to avoid melee attacks and explosions.

Luck- Doesn't directly affect any skill,

but it does bias the GM.
Players may assign up to 40 points (in total) into the above categories. The maximum skill points a player can have is in each skill is 10. As I've stated before, players may earn more skill points later.
You may, in your character profile, create a special perk for your character that adds 1 point to one of the above skills, and also helps personalize your character. Example:
Wrestler: This character, before joining the Guard, was a professional wrestler. +1 point to strength.
or
Commanding Aura: This character inspires hope and courage in your fellow Guardsmen/women. +1 point to Charisma.
-R-
Expect this RPG to be a little slow in the beginning. I want characters to "train" and get to know each other. Make your characters something that someone cares about, and really flesh them out.
---
Current story:
You are part of the 421st Canadian Regiment, under the command of Colonel Alicov Impquison. The regiment commissar is Commissar Jass Paladin. The 421st is a raw regiment, but as soon as the troops had gone through basic training, a Chaos invasion of Cadia began. The regiment was shipped out to assist other regiments in defending a fort up north, and the current Chaos ground invasion failed, and you're now mopping up the last of the enemy troops.



Posts

: 8


Reputation

: 0


Join date

: 2012-05-06



Winchester's grenade launcher shot goes wide, and explodes harmlessly off of the side of the base wall. However, the enemy forces are now almost completely eradicated. Only about five platoons of enemy troops are left, their vehicles are gone, and their Chaos Space Marines are dead. The rest of the Guard forces are now in mop-up stages.

Kurb manages to crawl to cover behind a large chunk of ceramite. He begins to try and rip off a piece of his lower pant leg to use it as a temporary bandage, but thankfully a medic that Ari ordered over arrives and applies actual bandages to the hand stump. The rest of Ari's makeshift platoon continues to hunt down the Chaos heretics, making four more kills themselves.

The 421st's Colonel, Alicov, is on the vox and calling radioing the Cadian high command that the fort is secure. He listens for a while, but then a grim expression falls across his face.



Posts

: 8


Reputation

: 0


Join date

: 2012-05-06



OOC: THANK YOU. FINALLY.

/OOC
Ari continues on to 'sweep' up the rest of the Chaos heretics.
21-28 (WOOT)



Posts

: 19


Reputation

: 0


Join date

: 2013-01-29


Location

: In between the battle and a nice yumme' sandwich



Winchester looked around for a Lasrifle to pick up, to conserve his grenade launcher's ammo. ( 5, 6 )
OOC: ... Did I accidentally role with 1D6?

Admin




Posts

: 2191


Reputation

: 12


Join date

: 2012-01-13


Location

: The Center of the Universe



*As soon as Kurb's bandage is applied he thanks the medic and looks around for his rifle, grabs it with his good hand, and goes off to join Ari's group in mopping up the last of the enemy.*
[7,8 for handling his rifle well]
[17,9 for mopping up well with Ari's group]
[13,19 for not dying in the process]



Posts

: 10


Reputation

: 0


Join date

: 2013-02-25


Location

: On my ship, [i]The Ranger[/i]



Is this gons contiue anytime soon?




Posts

: 10


Reputation

: 0


Join date

: 2013-02-25


Location

: On my ship, [i]The Ranger[/i]



I'm pretty sure this is dead…Though I wish it wasn't. KOJAN. HEEEY.



Posts

: 19


Reputation

: 0


Join date

: 2013-01-29


Location

: In between the battle and a nice yumme' sandwich



I agree. Fire, go ahead and proceed to pester Kojan mercilessly about this. In fact, please do.

Though, AA also needs to get back here too... (... Didn't we have one other active person though? Who was it? I can't check that on LZP anymore.)
Admin




Posts

: 2191


Reputation

: 12


Join date

: 2012-01-13


Location

: The Center of the Universe



We had you, Em, AA, me, and the one guy that played the.. "light hearted" person, though I don't think he comes around anymore



Posts

: 19


Reputation

: 0


Join date

: 2013-01-29


Location

: In between the battle and a nice yumme' sandwich




Similar topics
---
Permissions in this forum:
You
cannot
reply to topics in this forum